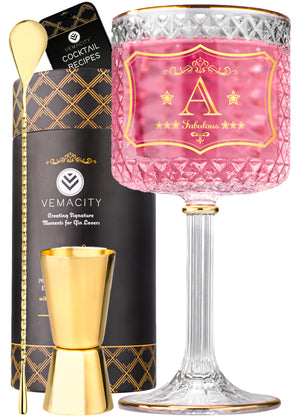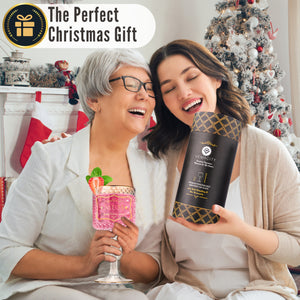 Personalised Gin Glass with Gold Rims + Your Choice of Initial | Large Gin Glasses for Women with Gold Cocktail Spoon & Jigger
💎 - [𝐏𝐞𝐫𝐬𝐨𝐧𝐚𝐥𝐢𝐬𝐞𝐝 & 𝐏𝐫𝐞𝐦𝐢𝐮𝐦 𝐆𝐢𝐧 𝐆𝐥𝐚𝐬𝐬] 𝑳𝒆𝒕𝒕𝒆𝒓  - This luxury large gin glass is personalised with your choice of shiny gold letter. Unique & premium choice of gifts for her. Use the gold spoon and jigger to make a consistently perfect gin and tonic or use them as Aperol spritz glasses and a wide array of other great cocktails.
💎 - [𝐏𝐞𝐫𝐟𝐞𝐜𝐭 𝐟𝐨𝐫 𝐆𝐢𝐧, 𝐖𝐢𝐧𝐞 & 𝐀𝐩𝐞𝐫𝐨𝐥 𝐒𝐩𝐫𝐢𝐭𝐳] - Our large embossed glasses are the perfect size for serving gin, wine or a refreshing Aperol Spritz! Each glass is 11.5cm in diameter x 20cm tall with a max capacity of 450ml. The bar spoon is 20cm long. The double-sided jigger has a 25/50ml capacity. Plus you will receive a bonus Cocktail Recipe e-book (PDF) to help you get the most out of your new gin glass.
💎 - [𝐁𝐞𝐚𝐮𝐭𝐢𝐟𝐮𝐥, 𝐆𝐥𝐢𝐭𝐳𝐲 & 𝐒𝐡𝐢𝐧𝐲] - The recipient of this glass will feel extra special when they see their initial beautifully stamped in gold on their glass. To add to the glitz, this set includes a gold double-sided jigger and cocktail stirrer, perfect for mixing your favourite gin cocktails. This is the ideal choice of birthday gifts for her.
💎 - [𝐓𝐡𝐞 𝐏𝐞𝐫𝐟𝐞𝐜𝐭 𝐆𝐢𝐟𝐭] - This personalised gin glass comes in a beautiful gift box which is sure to create a "wow" moment. Perfect if you're looking for birthday presents for women! Even better as a Mother's Day gift or mothers day glass, Christmas Gift or a special treat for a best friend.
💎 - [𝐄𝐚𝐬𝐲 𝐂𝐚𝐫𝐞 𝐆𝐢𝐧 𝐆𝐥𝐚𝐬𝐬 𝐆𝐢𝐟𝐭 𝐒𝐞𝐭] - This gin glass gift set is totally dishwasher-safe. Even the included Gold cocktail spoon and double-sided gin measure. We use the highest quality food-safe materials and take extra measures to ensure the gold detailing never fades.